Greedy M2 Kit
Login to see the price
To view this product and your personalized pricing, please
Login
to your registered affiliate account.
If you do not have an account, or if you are interested in creating one, feel free to contact us at 786-888-8100 or head to our
registration page here
.
The Greedy M2 is the one of the most versatile heating attachments available, and the included dual titanium/quartz rod heating chamber gives users a powerful wax consistency atomizer to start with! The M2 is equipped with dual adjustable airflow, an easy access mouthpiece for quick refills, and is protected by a durable stainless steel housing that matches the included battery beautifully. The 60W is a smart battery, meaning it automatically adjusts to the correct wattage and voltage for the attached cartridge. Its 1400mAh capacity, 60 watts of power, and pre-heat functions make it the perfect match for the Greedy M2 attachment.
Caution: Let the battery and chamber cool between cycles. Do Not exceed 2-3 heating cycles without letting all components of the Greedy Kit cool. This will help prolong battery life and prevent overheating.
The Studio Rig Ceramic Heating Chamber (sold seperately) is needed to use the Greedy M2 with dry herbs.
This Kit Includes:
1 – Greedy M2 Heating Attachment
1 – Smart 60W Battery
1 – Dual Titanium/Quartz Rod Atomizer
1 – Micro-USB Charger
1 – User Manual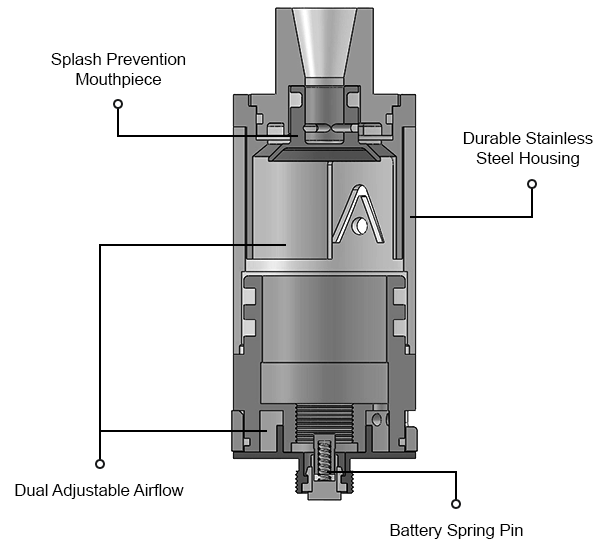 ATMOSRX VAPORIZERS ARE NOT A SMOKING CESSATION PRODUCT AND HAVE NOT BEEN EVALUATED BY THE FOOD AND DRUG ADMINISTRATION, NOR ARE THEY INTENDED TO TREAT, PREVENT OR CURE ANY DISEASE OR CONDITION.