It's been an exciting year, and not just for Atmos, for vaping in general. But in today's blog post we're going to look back on 2015, all the new product releases, and some of the events that we had a blast at.
Here Are Some of the Products We Released This Year: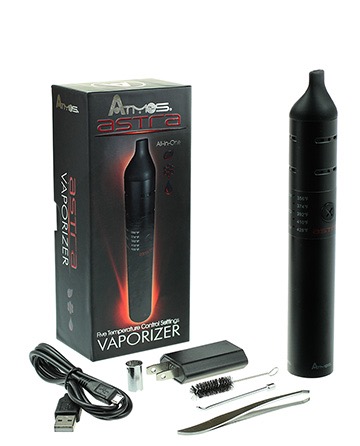 Early on in this year, Atmos released the Astra, an all-in-one portable vaporizer. The Astra uses an embedded ceramic heating chamber alongside a stainless steel cup, making it compatible with thick oils, wax consistency products and dry herbs. In addition to a wide range of compatible products, the Astra is equipped with five preset heating temperatures, allowing users to vaporize their preferred product at the temperature that best fits their needs.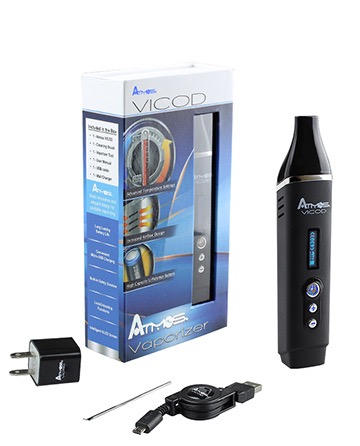 The Atmos Vicod Dry Herb Vaporizer's sleek hardware comfortably fits in the palm of your hand. It's intelligent OLED display and advanced temperature settings, ranging from 350F – 430F, let users experience the power of a high quality vaporizer in a convenient and sleek package, while its 2200mAh battery keeps it performing throughout the day. The Vicod's revolutionary design encourages airflow, while its high grade stainless steel chamber vaporizes dry herbs releasing full and rich flavor. The Vicod's sleek and simple interface makes it one of the most advanced electronic herbal vape pen kits available, it truly is the ultimate combination of elegance and innovation.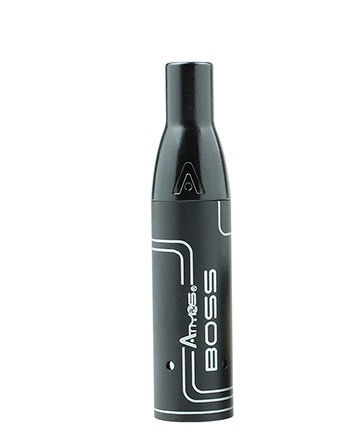 The Boss Waxy Attachment helped take what was already one of our best kits, The Boss, to an entirely new level. The Atmos Boss Waxy Heating Chamber is designed to evenly vaporize your waxy essence as well as your dry herbs. It features an advanced hard anodized heating chamber, capable of withstanding the wear and tear of everyday use; it also utilizes a raised airflow system, making it capable of holding more waxy essence while still promoting increased airflow. The chamber comes equipped with a redesigned easy access mouthpiece, providing smooth draws, full of rich flavor.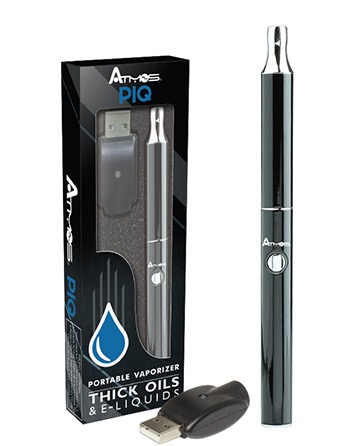 While Atmos has made great strides in satisfying the diehard vaping aficionados, we also released a little something for those just joining the movement: The PIQ. The PIQ portable e-liquid vaporizer pen kit is made for e-liquids and thick oils. Its stylish stainless steel exterior makes it a must-have for anyone interested in portable vaping, while its 350mAh battery keeps it charged and performing all day. The PIQ's unique liquid cartridge provides increased airflow through the device providing more vapor and richer flavor while also handling thick oils efficiently, making it an efficient thick oil vape pen. The PIQ is the perfect combination of style and performance in one compact and durable package.
The Redesigned R2

&

DHK Advanced Kit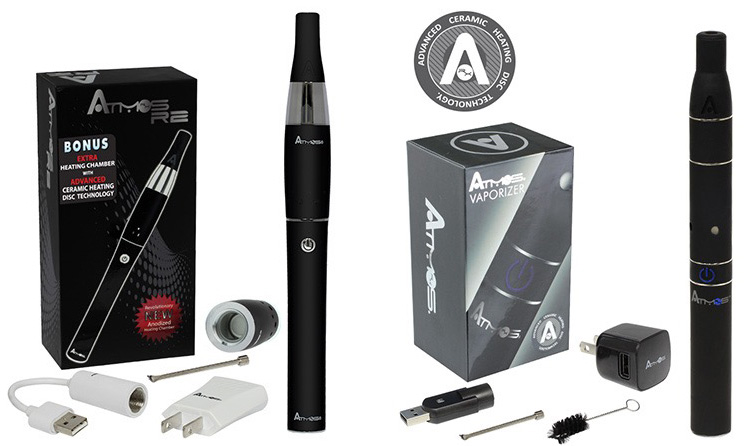 From new designs, to the ol'reliables, the biggest advancement in regards to the R2 and DHK kit is the addition of the advanced ceramic heating disc. The ceramic heating disc provides a smoother taste, a safer performance, and a cleaner look than ever before.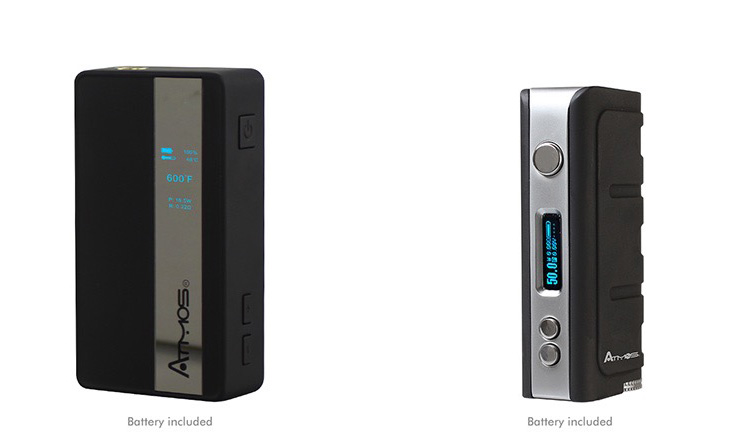 2015 marked the release of the Atmos iSeries batteries. This includes the i30, a small but powerful 30watt variable wattage battery, the i50, a streamlined 50watt battery with an interchangeable 18650 lithium-ion battery, the i50tc-j, a temperature controlled 50watt battery complete with joule controls, and the i150tc, a 150watt box mod equipped with advanced temperature controls. The iSeries batteries are the latest in vaping mods, with a device for every level of experience. Whether you're trying to enjoy sub-ohm vaping, rebuildable atomizers, or simple vaping clearomizers, the iSeries batteries are capable of handling whatever you want to throw at them.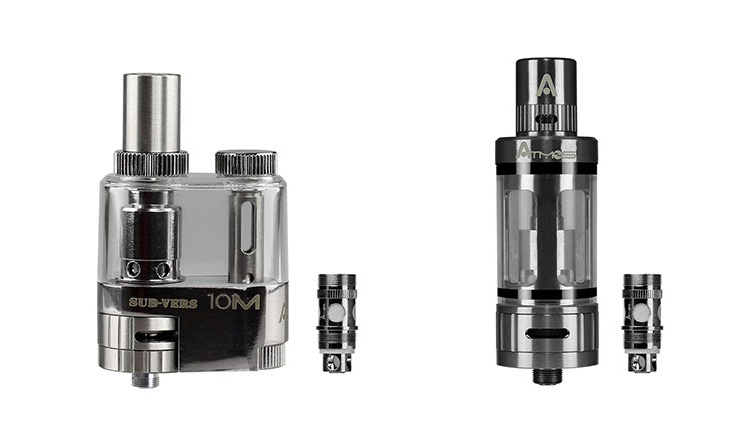 The Sub-Vers Tanks were released alongside the iSeries batteries, each Sub-Vers tank uses sub-ohm atomizers built at 0.5ohms and lower! This includes the original Sub-Vers, a 4.5ml sub-ohm tank, the Sub-VersTF, a top-fill 3.5ml tank, the Sub-Vers Mini, a compact 2.5ml tank, and the Sub-Vers 10m, a powerful and sturdy 10ml tank.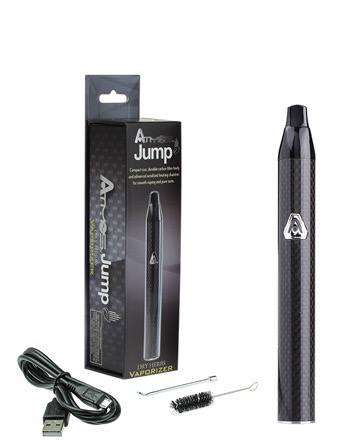 The Jump Dry Herb Vape Pen, with its powerful carbon fiber housing, is one of the most durable and compact true vaporizers available. Powered by a 1200mAh battery, the Jump provides powerful performance with every use, while evenly vaporizing dry herbs with its hard anodized heating chamber to provide smooth and rich vapor. And with its easy access mouthpiece and micro-USB charging, the Jump Herbal Vaporizer Pen Kit is convenient, quick and easy to use. Experience the joy that comes along with the powerful and portable performance of the Atmos Jump.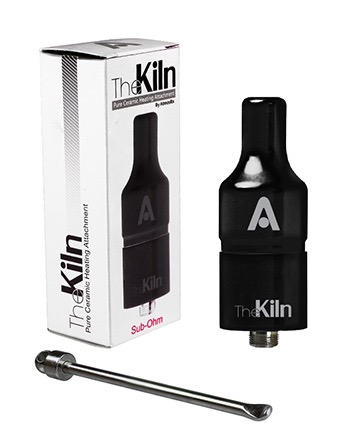 The Kiln is a uniquely designed heating attachment that is compatible with box mods and standard 510 batteries. The Kiln is made completely out of pure ceramic and it utilizes an advanced ceramic heating disc to evenly vaporize your wax consistency products, producing a smooth and pure taste. The Kiln's pristine look and powerful performance make it a must-have for anyone who enjoys vaping waxy products.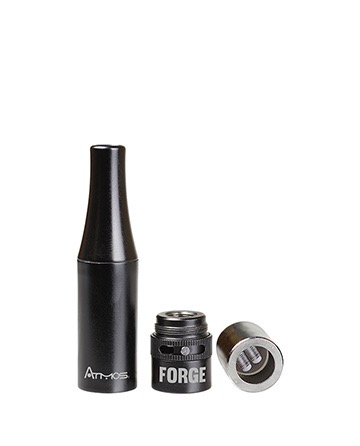 The Forge is a uniquely designed wax consistency heating attachment that is compatible with box mods and standard 510 batteries. The Forge's dual coil atomizers combine the power of titanium coils with the potent flavor producing qualities of ceramic rods to create one of the most efficient waxy heating attachments available. Durable and compact, the attachment is made of a high grade stainless steel and is equipped with a splash prevention mouthpiece, keeping your product securely inside the chamber as you vape. The Forge is also equipped with adjustable airflow, allowing users to increase or decrease the amount of air moving through the Forge, making their draws bigger or more flavorful. The Forge is a must have for anyone interested in vaping wax consistency products.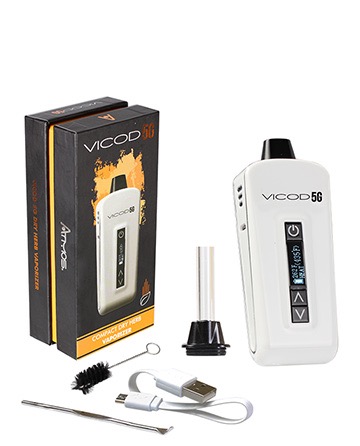 The Vicod 5G is Atmos' newest dry herb vaporizer. The Vicod 5G Dry Herb Vaporizer is one of the most compact and discreet true vaporizers available. The device is equipped with advanced temperature controls that range from 300F – 435F. It uses a high drain 2200mah Lithium Polymer battery in conjunction with an embedded ceramic heating chamber to produce pure and flavorful vapor throughout the day. The Vicod 5G's intelligent OLED screen displays the current temperature and remaining battery life to streamline the device's functions to create a simple, more convenient experience. The Vicod 5G's compact design and sleek interface make it one of the most powerful and versatile dry herb vaporizers available.
Let's Jump Into the Event Now, Shall We?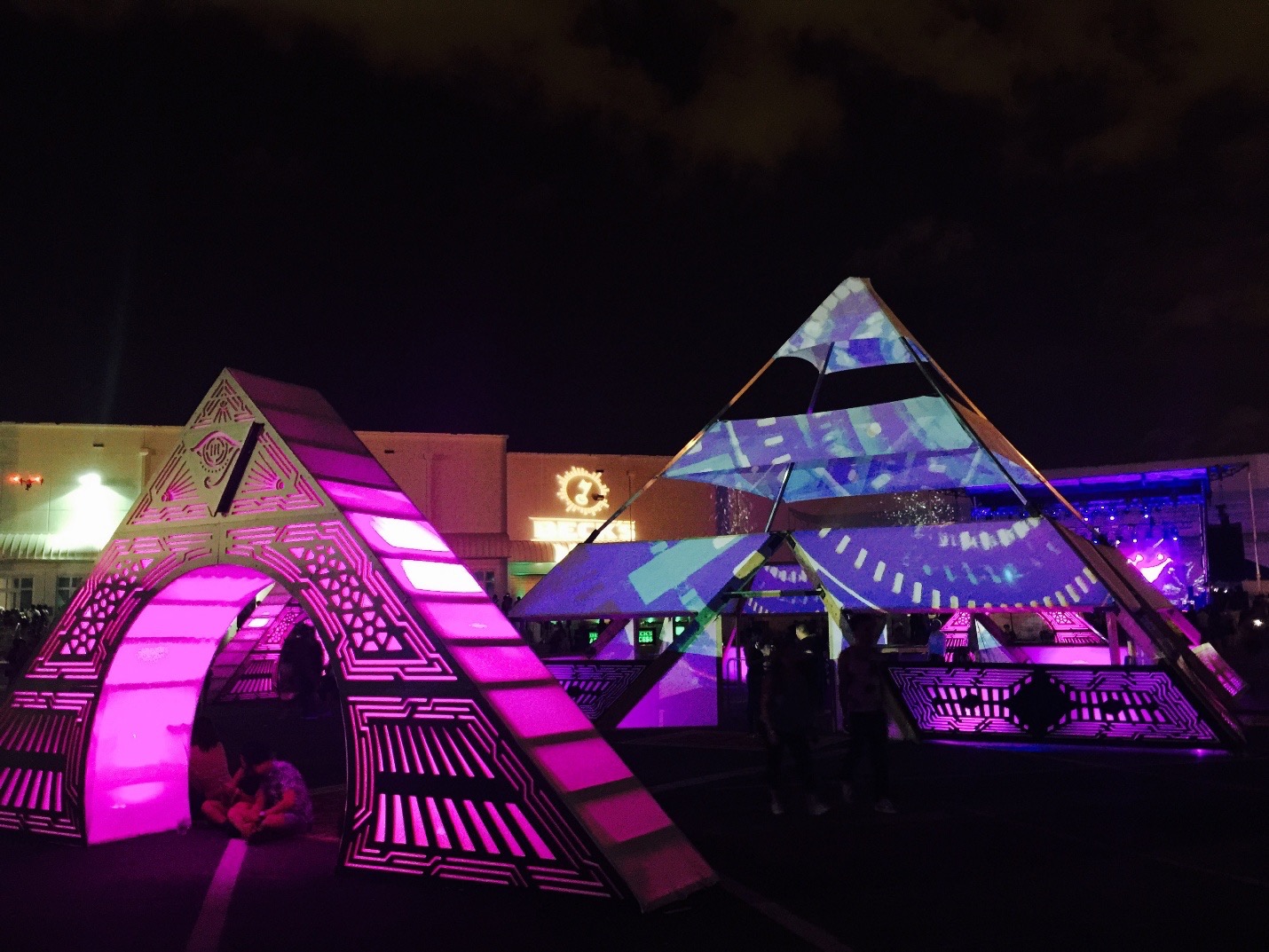 This year, we had the pleasure of attending III Points Music Festival in Miami. We got to meet a lot of you guys, as well as promote some of our products, see some amazing acts, and just plain hang out. We saw amazing bands like Surfer Blood, Toro y Moi, Panda Bear and XXYYXX! We've never been more excited to sponsor an event, because honestly, who knew work could be so much fun?!
Winning the Cannabis Cup in Jamaica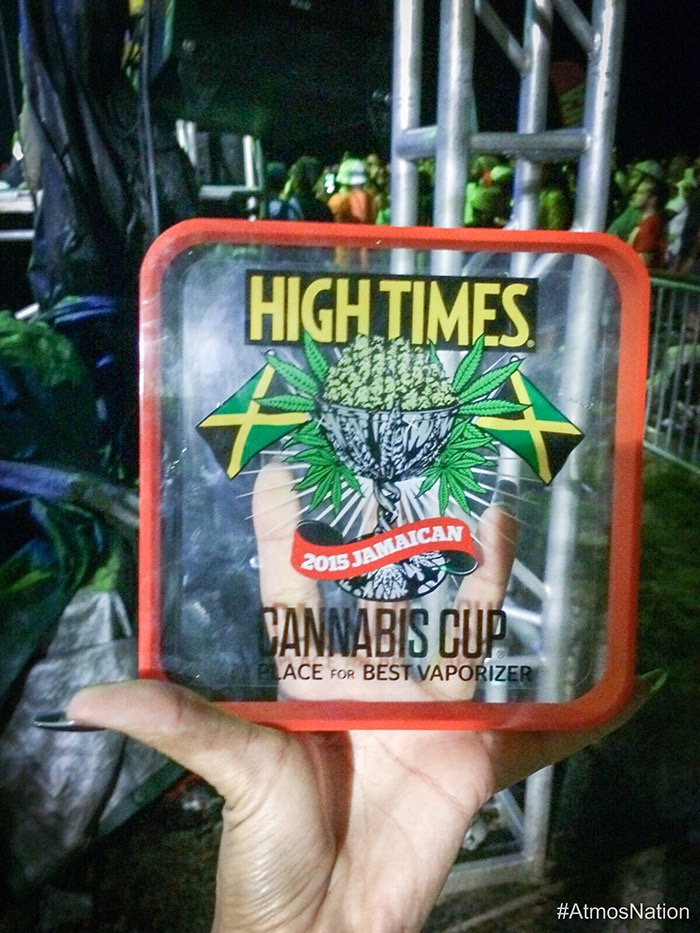 Back in November, Atmos had the pleasure of attending High Times Cannabis Cup in Negril, Jamaica! And, spoiler alert, one of products won their best vaporizer of 2015 contest.
What is the Cannabis Cup?
If you're not familiar with the Cannabis Cup, Rastafarian Rootzfest organizers and High Times magazine collaborate on a comprehensive, educational, and well-organized event that celebrates Rastafarian ideology, levity and culture. The event includes live musical entertainment and contests, including a contest that recognizes the best vaporizers in the business.
Atmos, along with other Cannabis Cup attendants, got to relax to the musical stylings of The Mighty Diamonds, Fred Locks, Tarrus Riley, Luciano, Bushman, I Wayne, Janine Cunningham, and Jawara McIntosh AKA Tosh1.
So what's the good news? Well the Atmos Jump Dry Herb Vaporizer won 3rd place in the Hightimes best vaporizers of 2015 competition. And we are nothing but proud of the title, and the chance to relax in Negril, Jamaica.
Don Rimx's Atmos Inspired Mural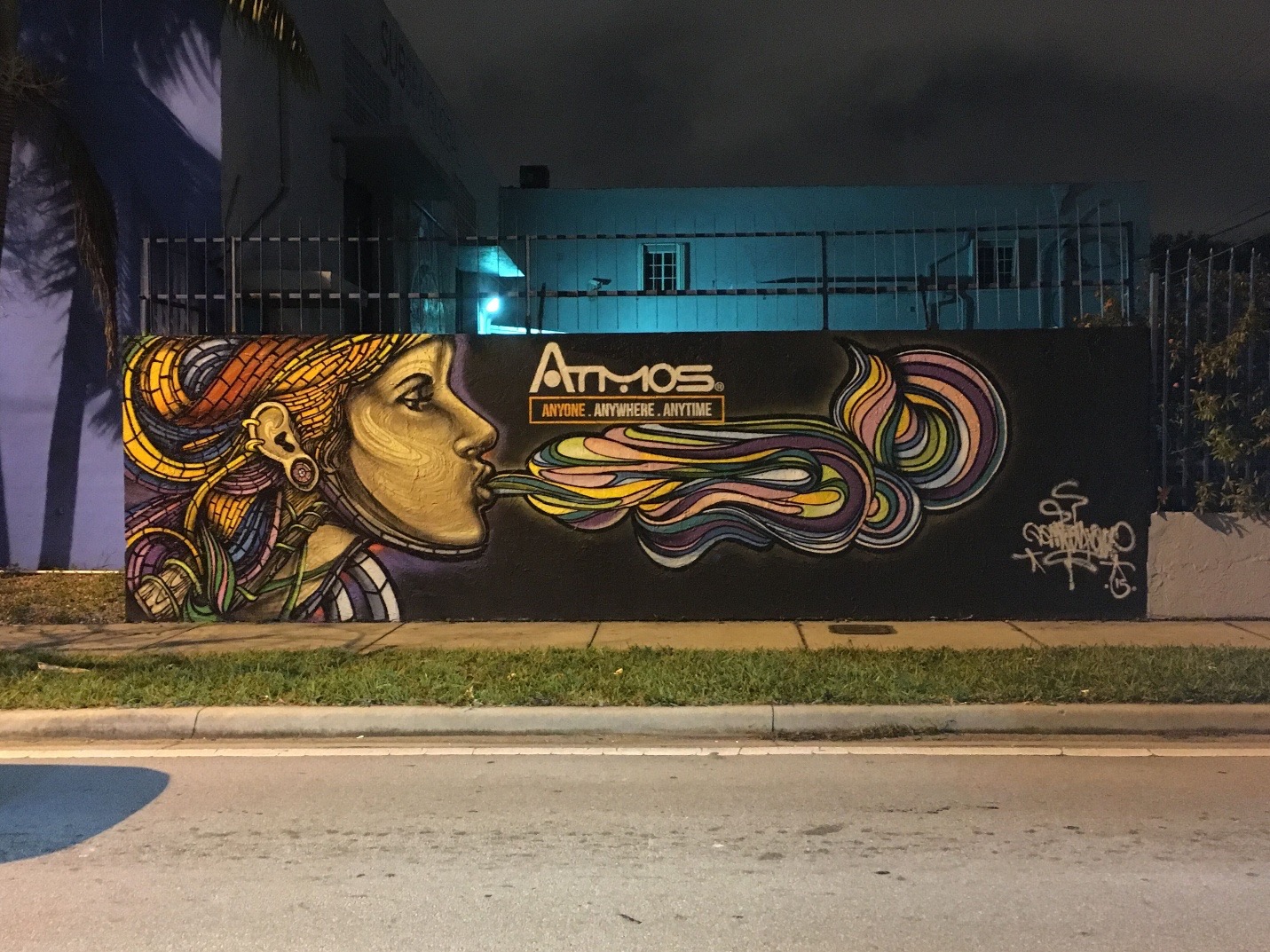 Back in October, renowned Miami artist and native, Don Rimx began working on a gorgeous Atmos inspired mural that can now be seen in Miami (or for those of you who aren't enjoying the lovely weather in Florida, our Instagram). Don Rimx's mural may have been inspired by vaping, but his mural will eventually end up inspiring more people than we as a company ever could, and that's the beauty of the art as a whole. It brings people together. And anything that brings people together should be celebrated.
Wow! What a year. We here at Atmos would like to thank all of you for your continued support over the years. We've grown a lot, the industry has grown a lot, since our inception, and we plan on reaching further and further in the future. Are you all ready for 2016?